OUTDOOR
WEDDING IN ITALY
Tips to plan your OUTDOOR wedding in Italy
"From a romantic vineyard to a breathtaking beach: so many venues for outdoor weddings. Let us inspire you for your big day."
If you have been dreaming of wearing a fantastic bridal gown and are considering getting married between May and September, you must choose to celebrate with a wonderful outdoor ceremony IN ITALY.
The outdoor wedding, once known as "American marriage", is spreading more and more in Italy: getting married surrounded by an amazing landscape, characterized by authentic beauty, is a widespread desire to many couples.
Before organizing an outdoor wedding in Italy, however, some bureaucratic elements must be taken into account. If the oath of eternal love to you is valid everywhere, the law does not say the same! The marriage has civil validity only if celebrated in the Municipality or in other authorized centers; if you want a religious rite, the promise of marriage must be held a church or a consecrated place. So, if you dream of getting married by the sea or in a blooming garden, you must consider carefully every single detail.
How to face Italian wedding bureaucracy
A Catholic marriage to be valid in Italy must be celebrated in a church or in a consecrated space, however, it is possible to agree on a different location. Precisely for this reason it often happens that a priest let himself available to celebrate an outdoor wedding, for example in the mountains. Setting up a tabernacle, with consecrated hosts, everything is possible!
The privileged place of civil marriage is the town hall; but if you dream of open spaces and flower gardens, you can opt for the gardens of the municipal house or opt for special offices set up by the town hall itself; thus it becomes possible to celebrate the outdoor wedding with a civil ceremony in a villa, a historic building or even a castle.
All this bureaucracy can be lighter or heavier. Can't deal with it? A simple but decisive solution can be to simply sign in the town hall, in the presence of best men, and then celebrate the ritual in the place you prefer. At this point, no limit! Anyone can celebrate this symbolic ritual outdoors, even a friend of yours!
Getting married outdoors can be really beautiful: nature is the best background for a truly evocative ceremony. Few decorations will be enough to create the atmosphere you want! However it is good to have some precautions and to protect oneself, in a case for example of rain or excessive heat: if it is true that any corner of the world can be perfect, do not forget to safeguard your safety and that of your guests, who must reach you comfortably. Furthermore, it is good to provide indoor spaces, with resistant gazebos or tarpaulins, which are indispensable both in the case of scorching sun and rain.

Organize an outdoor wedding in Italy  – the photographer's tip
I have celebrated many outdoor weddings in Italy; in the last period, this type of ritual has clearly increased. It doesn't matter if it's a civil, religious or symbolic ceremony: an outdoor wedding always allows me to create incredible masterpieces, thanks to the spontaneous light and natural beauty of the place.
If once it was limited to the Church or the town hall, today the dream of outdoor marriage is increasingly widespread;
Like all events, even outdoor weddings have Pros & Cons or at least need some precautions: because if it is true that getting married under the blue sky can be beautiful, you need to have an eye for safety too for the comfort of our guests. Much depends for example on the ceremony you want to organize and the type of guests. I always share my experience available to my clients … so that their outdoor wedding is a dream that comes true.
Choose a stunning wedding Location for an outdoor wedding in Italy
Beauty, first of all! Look for a location that matches your desires, for example, a garden with flowers, or an impressive panoramic view. Not all places are suitable for an outdoor wedding, so you must spend sometimes evaluating all possibilities.
Any examples? I celebrated wonderful weddings in the vineyards in the Langhe area, in the Tuscan countryside … let's talk about it together! If you prefer, you can choose a castle or a historic villa and celebrate your wedding in its garden: in this way, everything will be easier.
Where can you get married? Ideas and suggestions
1. BY THE SEA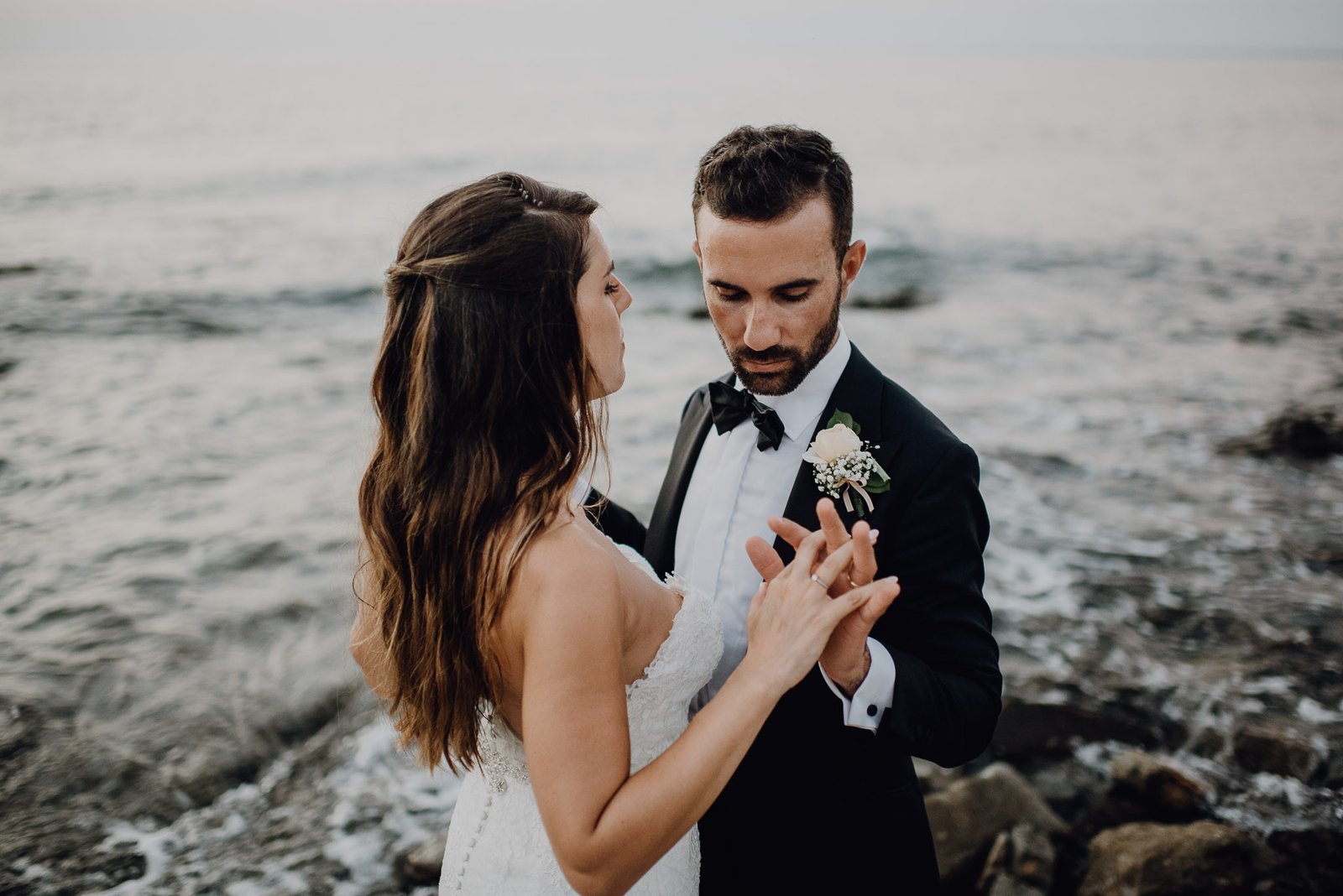 Choose a location by the sea. A gazebo on the beach, a light tulle gown… the background of the waves and your promise of marriage, nothing else is needed!
2. IN THE WOOD
If among your memories there are incredible walks surrounded by trees and peace, you could get married right in the woods. A small altar, candles and jute sets, that's it.
3. COUNTRY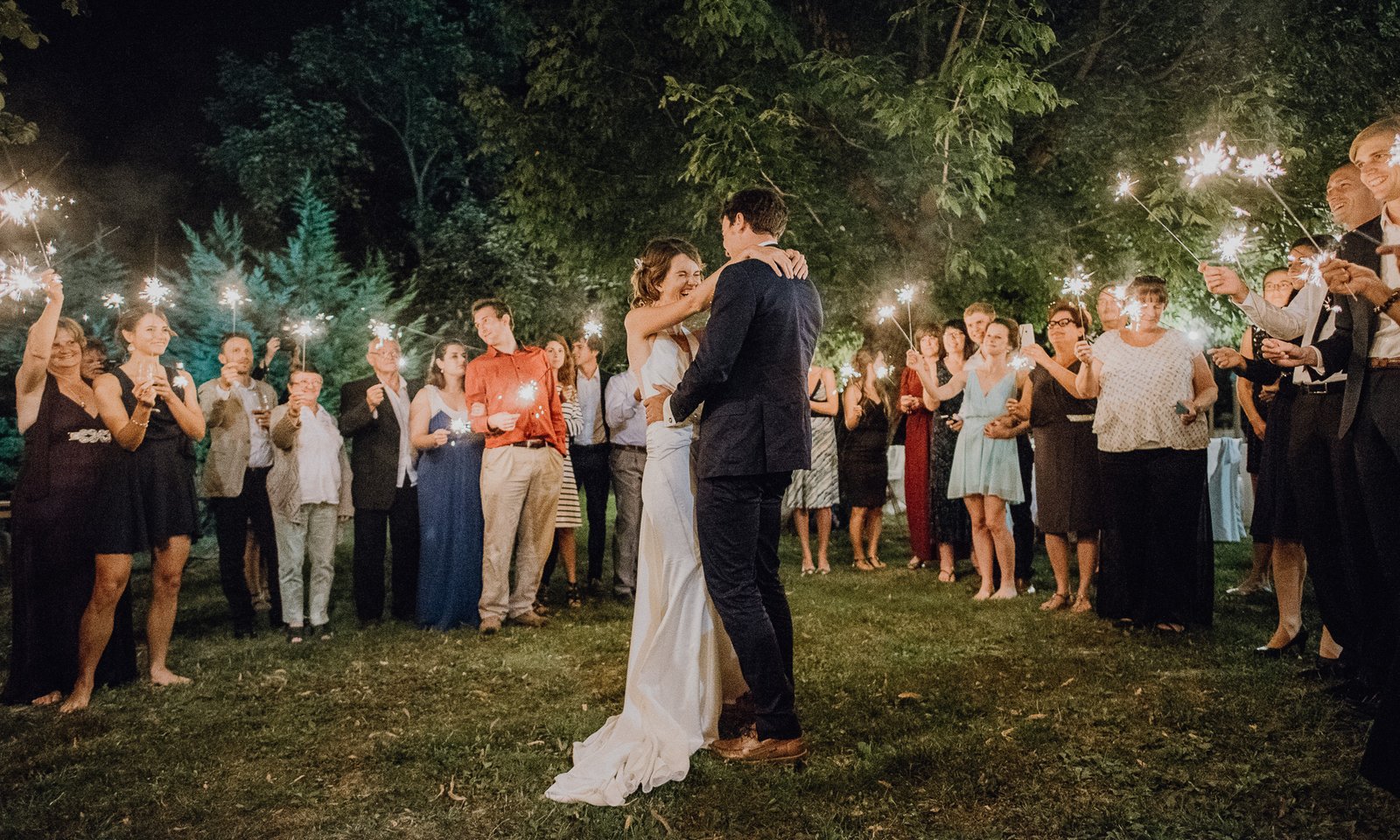 Do you recognize yourself in the country style and dream of an eco-friendly ceremony? The ideal for you is to get married in the open countryside, in a meadow or in a blooming garden. An arch of flowers will define the boundaries, thus creating the perfect location in maximum simplicity.
4. IN A BREATHTAKING LOCATION
The great Abbey of San Galgano, in Tuscany, seems to have been born precisely for this: the majestic and imposing structure stands on a lawn and has no roof, thus reconciling your search for refinement and simplicity. All around, the historic walls… but above you, only blue sky!
5. ROMANTIC AND DELICATE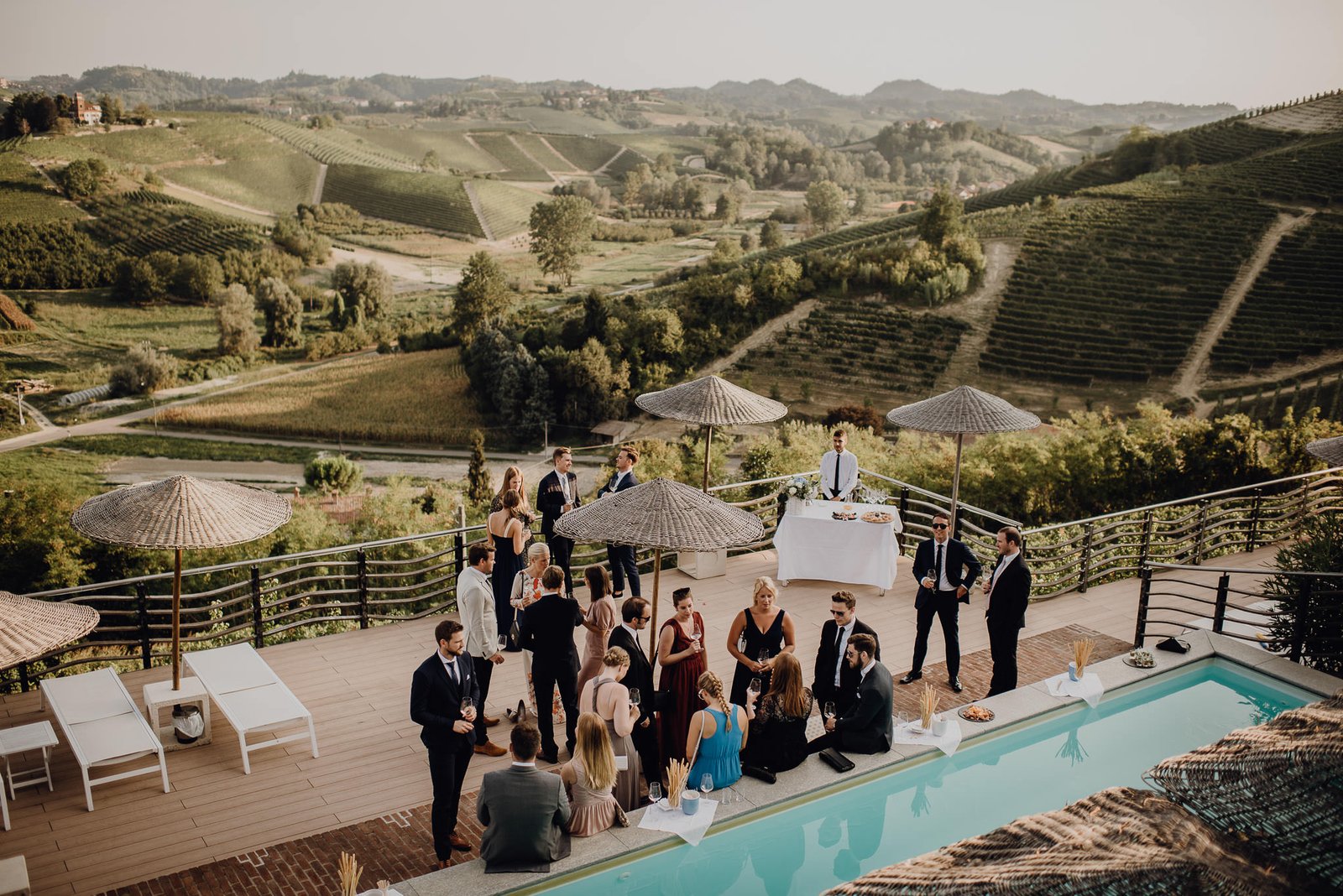 A romantic and pleasant ceremony, like the hills that form the background of the structure? Get married on the hills: the view is suggestive, comfort assured … for an evocative ceremony, without thoughts.
6. VINTAGE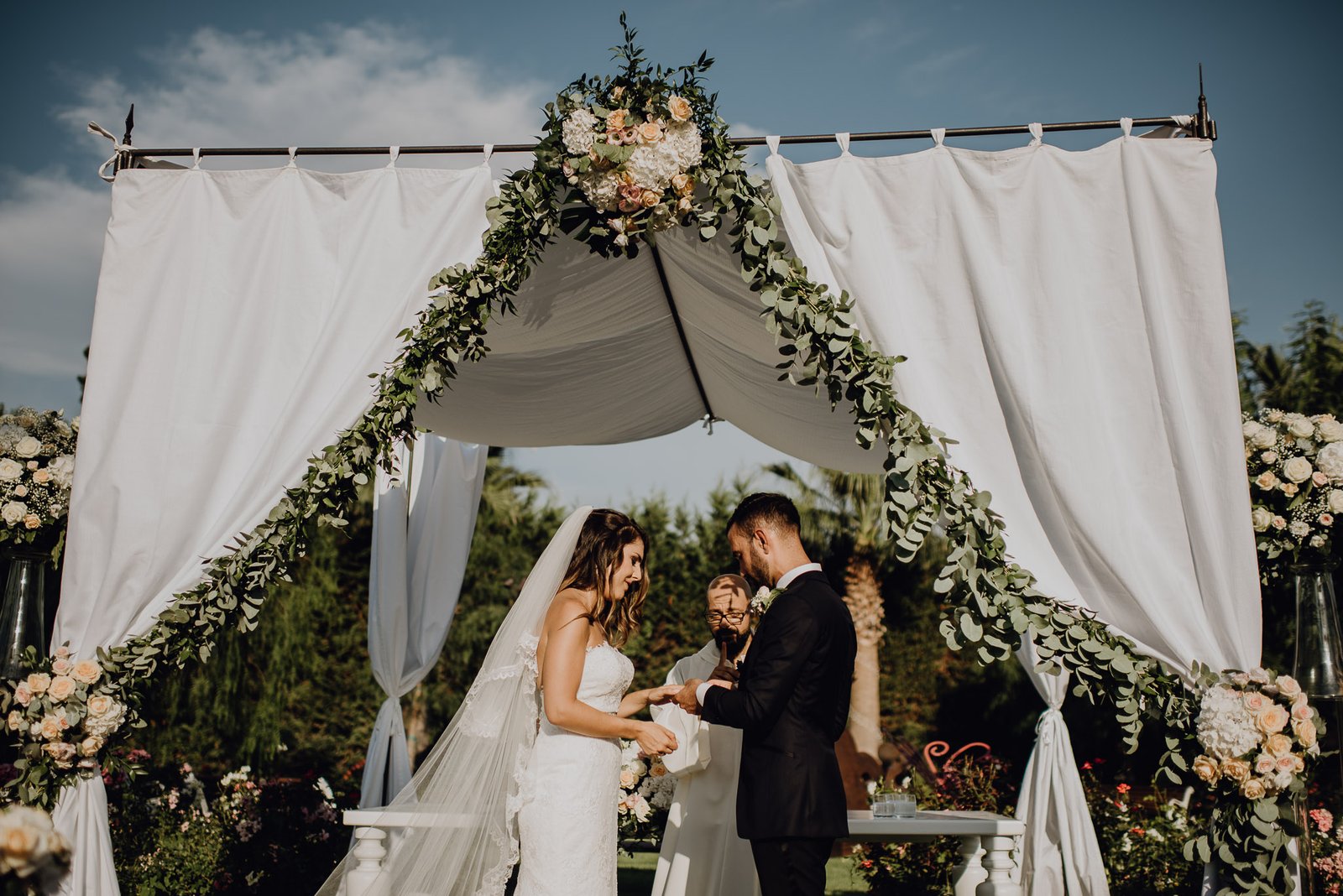 If you like the idea of getting married outdoors, but you want to create a well-defined location for your wedding, away from the sun or from a sudden summer rain, you can opt for a gazebo: solid but light, white, it's perfect to welcome your promise of love by creating a romantic setting.
7. ON THE BEACH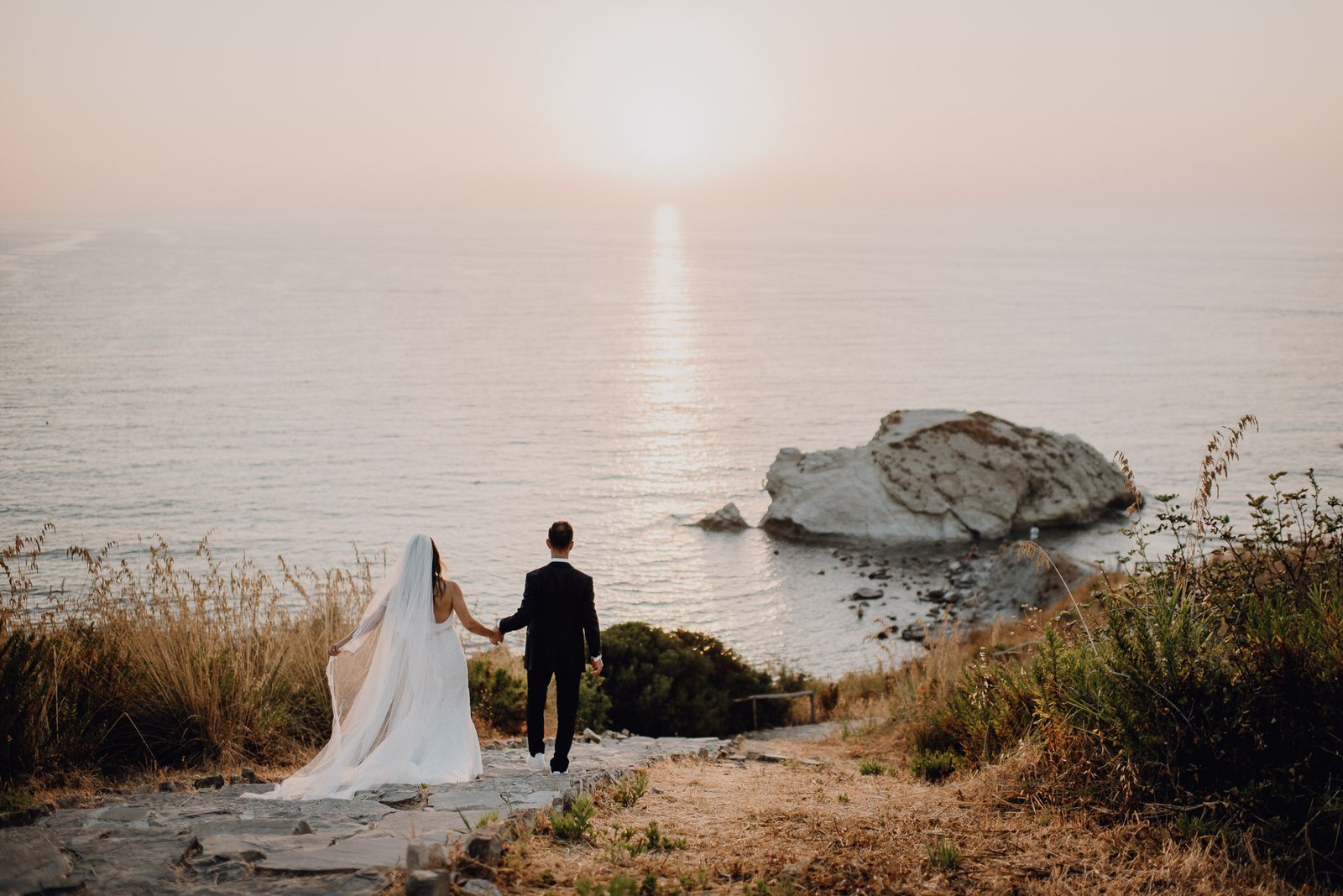 A beautiful cove, accessible to a few close friends, or a beach of fine golden sand? The Italian sea offers us incredible outdoor spaces. From Liguria to Sicily, passing through Tuscany, beauty really has no limits. If you would like to get married on a beach, but don't know which one to choose, contact me! I will tell you about my experiences.
8. IN A VINEYARD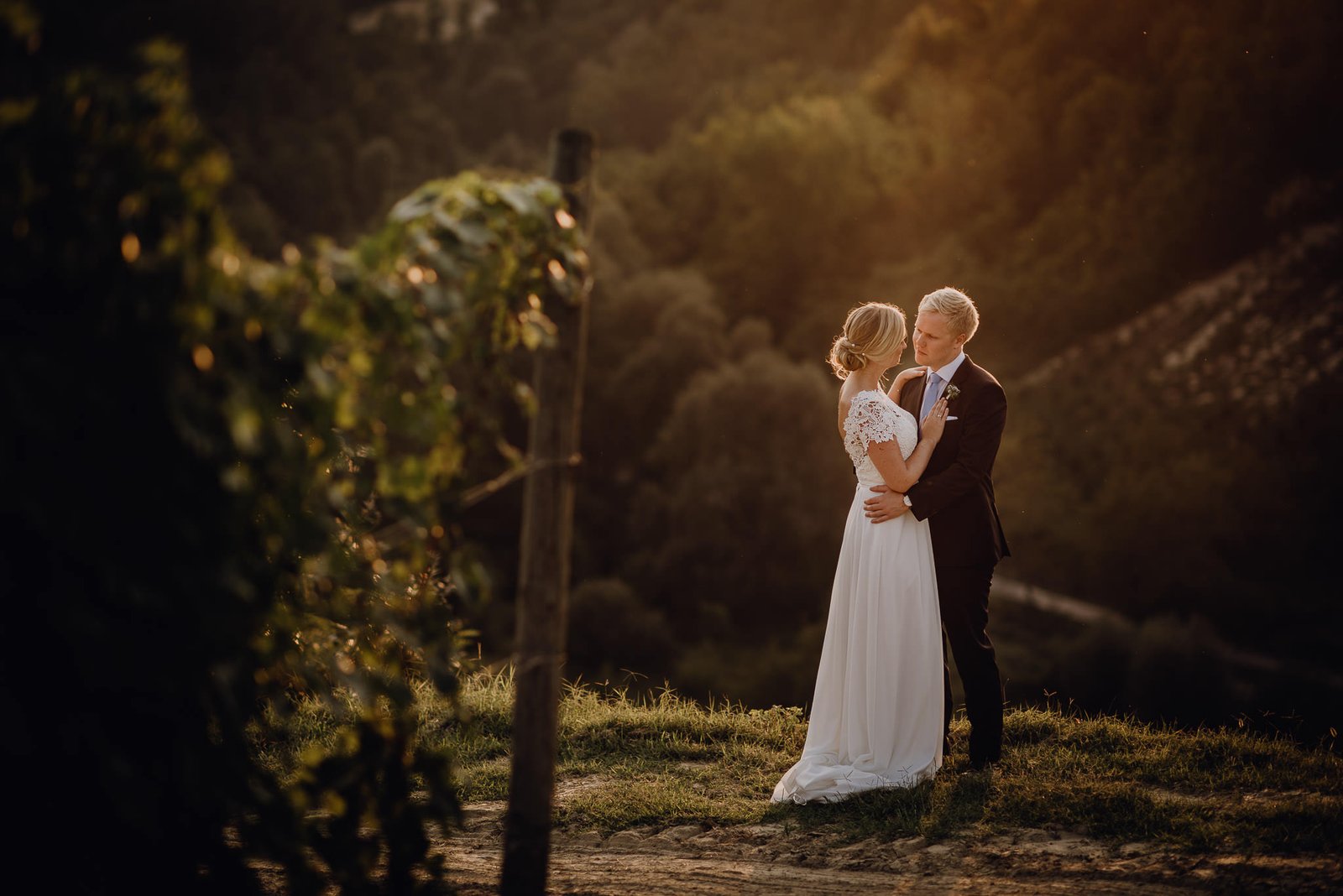 The Langhe is a welcoming land in Piedmont, always full of extraordinary scents and colors. For this reason, getting married in a vineyard in the Langhe, for example in the Barolo hills, can be a very special choice. A flowery arch, a themed arrangement, a splendid sunset … nothing else is needed. The toast is guaranteed!
9. UNDER AN OLIVE TREE
A wedding in the Euganean hills or in the splendid Tuscany, under ancient olive trees, can be truly impressive. If you love living in the open air and look for simplicity, do not hesitate: you can choose a historic building, among the many presents in these areas.
And if it rains? Here is your Plan B!
If you want to get married outdoors in Italy, as you have seen, there are many possibilities: it all depends on your personal taste and how you imagine your marriage.
The weather shouldn't be a problem! It is not possible to predict what the weather will be, but it is possible to organize the event so that you can quietly celebrate with the sun and the rain. For this reason, if you are organizing an outdoor wedding in Italy, before choosing the location you should also consider the alternative presence of a porch, a sufficiently spacious room or the possibility of installing, for example, a gazebo. As for the photo shoot, no problem: the photos, with the rain, are even more impressive and romantic! The important thing is to have the right equipment (I have it!).
The Menu of an Outdoor Wedding
An outdoor menu is not suited to an important menu, with the need to sit at the table for many hours. Instead, it is much better to move towards a finger food buffet, with light dishes, seasonal vegetables, fresh fruit and fanciful single portions of food. Don't forget about the drinks: being a hot season, it is necessary to provide for high consumption of thirst-quenching drinks.
How could you place tables and buffets? The conformity of the place, first of all, and the number of guests comes into play. But consider the origin of the light: it will be crucial to create an excellent photo shoot! If in doubt, compare yourself with me: I am at your disposal to evaluate all the details together!
The themed decoration

Spouses who decide to celebrate their wedding outdoors in Italy usually take great care in identifying the right location. Particularly evocative corners create the right atmosphere. Even the decorations must be themed with the environment: take inspiration from the place, from the scents and colors already there.
If you get married on a beach, you could play with glass bottles, shells, sea-colored fabrics; if instead, the ceremony will take place in a wood, wild berries and wildflowers will be the protagonists. Browse the web, doing a search by images: there are many examples of really amazing themed decorations.
Outdoor wedding & guests
Guests should be informed that the ceremony will take place outdoors: in this way, they will be able to choose suitable clothing and accessories. Even a beautiful lawn or a beach of golden sand can become hellish traps if faced with a heel 12.
In some weddings the bride and groom have made available to the guest's baskets of flip-flops: it is a nice way to create a cheerful and informal atmosphere! In this way even the photos will be realistic: the smiling faces will tell the joy of those who, together with you, are enjoying the beauty of the place, in the utmost simplicity.
The Wedding Bag, to surprise the guests
At the center are you and your promise of marriage. But for everything to be perfect it is important that even the guests spend a really pleasant day. A solution to create the right atmosphere and welcome them with a special gift consists in giving them a Wedding Bag with everything they need: a fan for the heat, a bottle of water, a parasol, a perfume or a hat for the sun. You could differentiate the Wedding Bag between men and women or personalize the gifts with your names.